The National Accreditation Board (NAB) has embarked on a review of the programmes and operations of Valley View University (VVU), the first private chartered tertiary education institution in Ghana.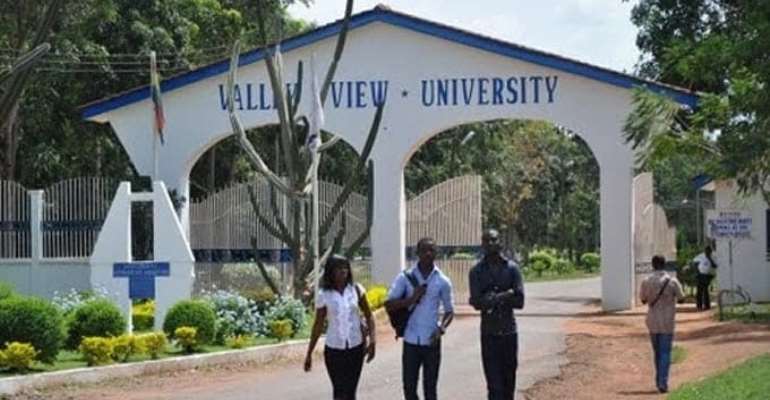 The exercise was to ascertain if they were conforming to required quality standards and improvements.
As part of the review process, members of NAB, led by Prof. Kwame Boasiako Omane-Antwi held discussions with the leadership, faculty and administrative personnel of the institution.
The meeting with the University authorities was to find out about its quality of teaching and learning, student-lecturer relationship and more. They also inspected the library, labs, workshops and hostels of VVU.
Further, the NAB team interacted with students to have an appreciation of their concerns to ensure that such challenges are adequately addressed in record time.
The Executive Secretary of NAB, Dr. Kingsley Nyarko indicated that the institution was not doing poorly commending them for supporting its teaching faculty to obtain terminal degrees.
He added that NAB would in the coming days write a comprehensive report about its findings for the university to act on.
"We looked at the issues that we thought were important for teaching and learning, and we made our observations known to the University authorities. What we are going to do is to go back, and send them a comprehensive report for them to look at," Dr. Nyarko stressed.
He added, "there will be issues that have to be addressed but in all, we need to ensure that quality standards are adhered to" as it was necessary to produce quality human resource for the development of the country.
Professor Daniel Kwame Bediako, Vice-Chancellor of VVU expressed the University's appreciation to NAB and indicated that management had taken note of the findings of the Institutional Review team.
He assured the Review team that the University will immediately take steps to re-enforce the areas where the institution has been commended and take remedial action to address deficiencies identified, even before the final report reaches the University.
Other members of the Review team were Prof. Juventus Ziem, Prof B.Y.Quarshie and Prof Mohammed Salifu.