Gbeogo School For The Deaf is a(n) Physical challenge institution located in Tongo, Bolgatanga , Ghana.
Address :Tongo

Bolgatanga Contact:T 038 2024480
Type of Business :
Education, Employment & Resear / Social Services / Special Needs Schools
Gbeogo School For The Deaf Receives Support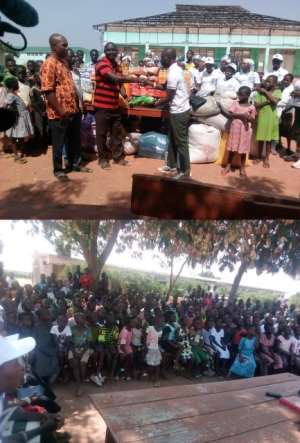 Power New Generation Church has donated assorted items to the Gbeogo School for the Deaf in the Talensi District of the Upper East Region, as part of Charity work being carried out to mark its 16th Anniversary.
The items included bags of foodstuffs, assorted soup ingredients, cooking oil, soft drinks, sachets of pure water, loaves of bread, used clothes, soap, detergents and Water, Sanitation and Hygiene (WASH) materials among others.
Mr Kwame Sefa Frimpong, the leader of the Bolgatanga Branch of the Church on behalf of Reverend Dr Kwadwo Boakye, the Founder, explained that the donation, which was part of the church's social responsibility, and an attempt to fulfil the scriptures which encourages people to show love to others.
He said the human body needed both spiritual and physical nourishment as portrayed in the Bible by Jesus Christ and it was mandatory on all to give to the vulnerable in society especially Persons With Disabilities to give them some sense of belonging and enable them live dignified lives.
Reverend Dr Boakye stated that plans were in place to adopt the school fully to be part of its priorities to continue offering assistance to improve the wellbeing of the children.
Challenging other churches, Non Governmental Organizations, philanthropists and individuals to show love to society especially people with special needs, he assured management of the school that the church would liaise with the media particularly the broadcasting stations to project the school to attract more enrolment and support.
Gbeogo School for the Deaf, established on August 20, 1996 by the government of Ghana with only 10 pupils including five boys and five girls, currently has about 345 children with 50 teaching and non teaching staff.
The semi-autonomous basic school was established to create avenue for children who had problems with their hearing to access education.
Mr Felix Neetege Faatah, the Headmaster of the school, who received the items, thanked members of the church for their generosity.
He said over the years the school had nurtured people who were presently working with various organizations while others were offering their services in the school as teachers.
'Last year, we presented 27 candidates for the Basic Education Certificate Examination (BECE) and 10 qualified for admission into the secondary schools and the rest went to Bechem and Wa Vocational Schools.'
He therefore urged the church as well as the media to become ambassadors of the school to educate parents of children with hearing disorder to know that their wards could still access formal education and contribute significantly to the development of society.
Though renovation of the school's dining hall was ongoing, the headmaster appealed for an assembly hall and means of transport as the school had only one old pick-up truck.